Venue
University of Vienna, Main Building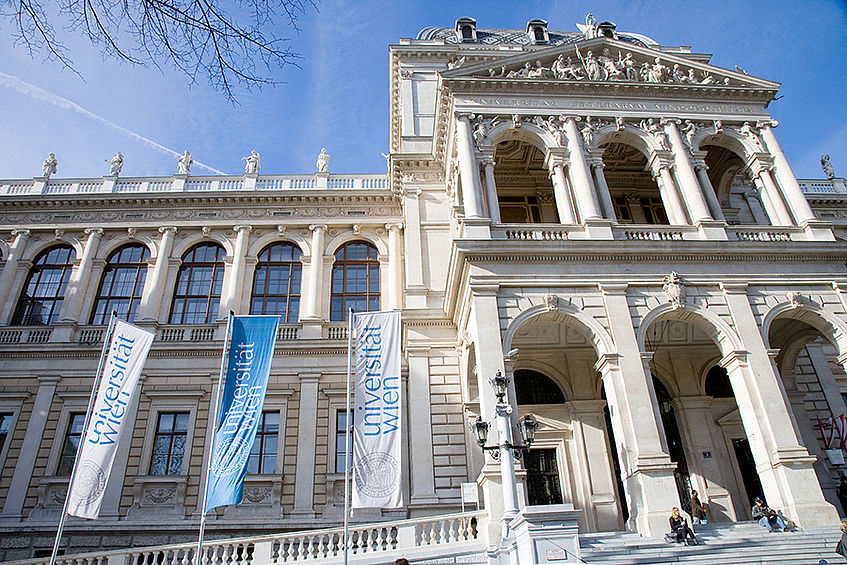 The IATBR 2024 will take place in the main building of the University of Vienna.
The address is:
University of Vienna, Main Building
Universitätsring 1, 1010 Vienna
The University of Vienna is situated in the historical heart of Vienna and offers you all advantages of a centrally located venue: both magnificent premises and excellent public connections.
Hotel booking
The Hotel Booking Website will open on 15th February 2024
Getting to Vienna
Arrival by plane
The international airport Vienna - Flughafen Wien Schwechat - is located approx. 20 km south-east from the City Center. There are several modes that connect airport and the city centre:
A taxi stand is located right in front of the arrival and departure hall.

Arrival by train
Vienna is well-connected to the international rail network. International trains arrive either at "Hauptbahnhof Wien" railway station or at "Wien Westbahnhof" railway station. From there you can take the underground, buses or trams.
For further information, please contact the ÖBB directly +43-05-1717 or use one of the following links:
Moving around in Vienna
Public transport
Vienna has an efficient public transportation system.
You can easily purchase tickets at the ticket machines in Vienna, located at larger stops and stations across Vienna or online.
The 72-h Vienna ticket (17.10€) is an economic way of moving around in Vienna.
For those who plan to do some sightseeing while they are in Vienna, the Vienna Card (29.00€) might be the right choice. It is also valid for 72 hours and entitles you to reduced rates when visiting museums, exhibitions, etc. You can buy the Vienna Card at the airport, in most hotels or order it online.
For general information on public transport and the different kinds of tickets please see Wiener Linien.
By bike / Walking
Vienna offers a wide range of bicycle paths.

As most of the sights of Vienna are in the city center and they are close to the venue, it is also recommended to explore the city by foot.
In addition to various bike rental companies, there are also the WienMobil bicycle rental stations that are distributed throughout the city. For more information about the city bikes click here.


Travelling by Car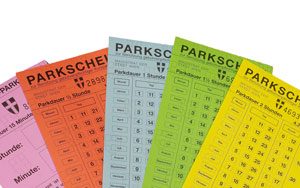 Travelling by Car
Parking is very restricted in Vienna, in particular in the area around the venue. You have to use pre-paid tickets called "Parkschein" (see picture), which exist in five colours:
purple = 15 min., free (you are only allowed to use this parking ticket once)
red = ½ hour, 1.25 €
blue = 1 h, 2.50 €
green = 1½ h, 3.75 €
yellow = 2 h, 5 €
These tickets can be purchased at any newspaper kiosk ("Trafik"). The nearest one from the venue is located at the underground station Schottentor. Parking with these tickets is limited to a maximum of 2 hours. These parking tickets are only available in German.
You can also buy a parking ticket online (only in German).
If you want to park for longer you have to use one of the car parks. The nearest one is the "WIPARK Votivpark-Garage" in the Universitätsstrasse (open 24 hours, 4.40 € per hour).
The cheapest way to park in Vienna would be to use the park & ride stations for 4.10 € per day (you are recommended to be there as early as possible to get a parking space). For further details on parking in Vienna please click on this link.
Visa requirements
You may need a visa to come to Austria. Please check this on the Government of Austria website for more information. Please pay attention to the visa processing time.
If you need a visa, we will send you an invitation letter for the application. To request the letter, send an e-Mail to congress@univie.ac.at

Please note that invitation letters can only be issued to particpants who have registered for the conference and paid the conference fee.
Dates and Deadlines
Deadline of extended abstract submission is 30th September 2023
Review results are expected to be distributed by 30th January 2024
Early registration will be opened from 1st March 2024 to 1st May 2024